Attention:
The Call for Artists has ended!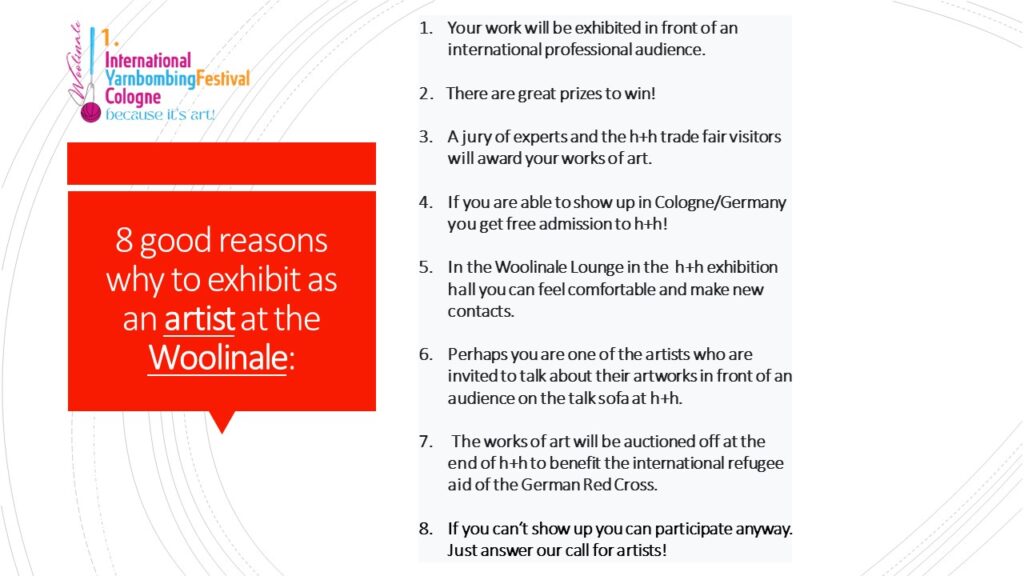 You haven't been contacted by us about the Woolinale and invited to exhibit your works, but you would also like to participate as an artist?
In addition to the invited artists, we want to give other creative talent a chance.
Simply post pictures of your projects that you think would be suitable for this application in the social media channels by October 15, 2022 (application deadline) and tag them with @woolinale and #hhcologne: This is your application to exhibit at Woolinale.
Our organization team will select additional artists from these applicants, who we will then invite to exhibit the works they have made especially for the Woolinale together with the other artists. There is no predefined topic for your Woolinale work, you are free to decide what you want to present. If you are one of the selected artists, we will send you all the necessary documents (including a description of the yarnbombing possibilities with dimensions on the exhibition grounds).
You can find out whether you have qualified to take part in the Woolinale on October 31, 2022 here on this page and in our social media channels.
Why is it worth participating? – Because h+h, as the world's leading trade fair in the field of textile handicrafts with exhibitors and trade visitors from over 80 countries, is the perfect partner for the Woolinale. It offers a unique platform and great international attention that is second to none.
Some exhibits will also receive awards. A jury of experts will choose their five favorites from among the works of art on display, and visitors to the h+h can also choose their favorite work of art in the visitor voting. From these two votes, five winners will be determined, who will be announced at the end of the Woolinale. Of course there will also be attractive prizes for them. Please note: The judges' decision is final.
Last but not least, it's worth being there because all participants will make a contribution to what we think is a very good cause: At the end of the event, as many works of art as possible will be auctioned off. One hundred percent (100%) of the proceeds will go to the International Refugee Aid of the Red Cross.